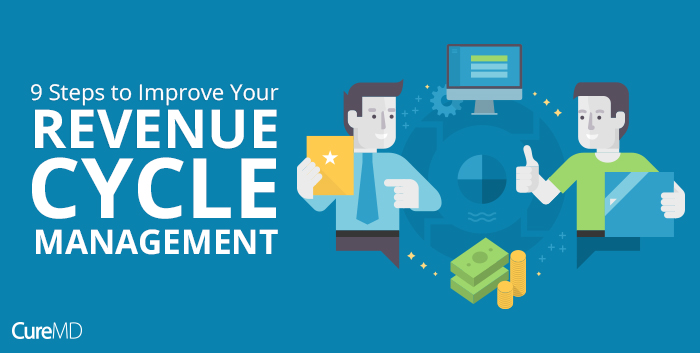 As the healthcare industry transitions from fee-for-service models to value based approaches to tackling rising costs, revenue cycle management takes on much greater significance. From pre-registration to collections, the dynamics of your revenue cycle depend on a myriad of key factors. Your hospital or healthcare institution may be dealing with largely external forces including patient debt, decreased cash flow, and increased claim denials from a volatile health insurance market.
Without cutting corners and affecting care quality, how can you improve your RCM in the ever-evolving healthcare universe? Don't miss these 9 tactical and effective solutions:
Use Revenue Cycle Management (RCM) Software
Digital RCM solutions can streamline and automate processes, maximize profits, and even provide insights into patient populations including rates of illness and chronic disease, frequency of visits, ability to pay, etc. Integrated into other health IT systems including medical records and billing, effective RCM software shortens the window of time between providing service and receiving payment. It can also assist with tasks like scheduling appointments, reminding patients of outstanding balances, and even automatically responding to payer claims denials with questions and appeals.
Increase Pre-Admission Contact
Time invested with a patient prior to service can make a big impact on time and money savings down the line. Calling ahead of an appointment to relay what a copay will be and explaining to patients how to remit payment, even taking payment over the phone, can routinely boost cash flow. Pre-admission contact also prevents confusion about information updates and insurance changes at the registration desk, and allows patients to ask administrative questions prior to service, improving patient loyalty and satisfaction.
Put the Patient First
Bolster provider-patient relations in every interaction – from initial contact and registration to service and collection. Happy patients are loyal patients; honing in on convenience, care, and commitment as a provider will lead to prompt payments and word of mouth business. Going the extra mile for patients to ultimately improve the revenue cycle may include steps like adding more payment options (i.e. credit card, debit card, check, etc.), posting available payment options visibly at registration, offering a small token (i.e. a pen, keychain) when payment is received in person, or even giving patients more insight into their upcoming services or procedures.
Optimize Registration Desk Processes
Small workflow adjustments can add up to big differences in team performance and a faster returns. A checklist at registration for staff to follow for copying insurance cards and verifying patient identities seems basic, but even pilots still use checklists to fly safely. Oversight of claims submissions, or "scrubbing" claims, can help prevent common mistakes that would otherwise lead to denials and back up your workflow – mistakes like incomplete plan information, coding errors, patient ineligibility, and missing supplemental attachments.
Regularly Examine Payer Contracts
Tracking discrepancies in reimbursements, claims denials, and payments can take up loads of time from multiple employees. Regularly auditing payer contracts can help pinpoint irregularities, monitor trends, and open dialogues with payers about any issues that may be affecting provider relations. In combination with data analytics from an RCM software system, contract auditing helps nail down why certain claims get denied and formulates steps to rectify the process.
Eliminate Post-Service Expenses
Imagine not having to handle billing, collections, reminders, or bad debt write-offs for patients. Is that even possible? Absolutely. Eliminating post-service expenses can be as simple as collecting payment upfront before service is administered either with pre-admission contact or at the registration desk. When your registration desk is verifying insurance, they can collect payment, verify patient data, and confirm contact information. Post-service patient satisfaction surveys may reflect this more efficient process as well and not leave patients to give feedback after a confusing and prolonged payment mess.
Offer Digital Solutions to Patients
An online patient portal which equips patients with the ability to track appointments, pay bills online, and monitor their own health records and results in one secure, accessible place is critical to streamlining a revenue cycle in the digital age. Patients expect to be able to pay a bill online with a credit card. Patients want to print off intake forms online before their appointment. The less time they have to spend in your office, the better. Faster service doesn't have to affect quality, and eliminating common patient hurdles to free up staff time and waiting room space can mean increasing patient volume as well.
Automate Eligibility Verification
Forget calling, faxing, and surfing payer websites to find out what type and level of coverage a patient has. An electronic eligibility verification system can offer a single solution to a time-consuming task, speeding up registration and payment processing, and reserving more time for staff to tackle bigger problems.
Communicate with Frontline Staff
Regularly evaluating processes and workflows with frontline staff will help you readily address any issues they are having, learn about their workarounds, and work together to resolve longstanding issues. Their suggestions and comments from the day to day frontline experience are invaluable, and combined with data and patient insights you glean from RCM and enterprise analytics software, may be able to help management develop faster and take better approaches to claims, billing, and collections.
What will the value of your revenue cycle management look like when the industry takes on a value-based approach to service and billing? With practical solutions for registration, payment collection, and claims processing, combined with smart investments in technology and software, both provider and patient will find the end result exceedingly efficient and more valuable.
Content contributed by Jessica Hegg: Jessica Hegg is the content manager at ViveHealth. Interested in all things related to living a healthy lifestyle she works to share valuable information aimed at overcoming obstacles and improving the quality of life for others.