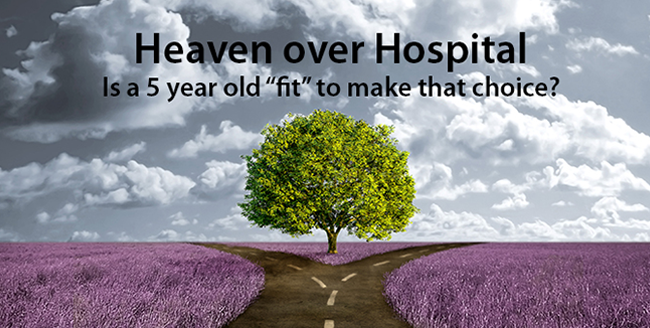 Parents of a 5-year-old Oregon girl, with an incurable and progressive disease have decided to let their daughter make a gut-wrenching decision: Return to the hospital for a slim chance to prolong her life, or stay at home and go to heaven.
Julianna is suffering from Charcot-Marie-Tooth disease since birth.  She started having problems in breathing and swallowing, before her first birthday, landing her into the PICU multiple times due to respiratory failure. Doctors have tried everything to prolong her life, however, with each aggressive treatment her quality of life is deteriorating.
"Julianna used to be able to walk short distances in a walker and use her BiPAP (noninvasive ventilation) only at night. By the end of the third hospitalization, she had difficulty sitting up even with support and could only come off of BiPAP for a few hours at a time. During this third hospitalization, we discussed her code status, met with the palliative care team and had a care conference. No one could give us a timeline, but everyone agreed that, at one point, the BiPAP would not be enough. 
According to Julianna's mother, Michelle Moon, her daughter has become so weak that it is highly unlikely that doctors will be able to save her if she gets sick again; and even if they do she would likely be sedated and on a respirator for the rest of her life.
"I realize that the idea of not doing "everything" to prolong the life of a young child is perhaps unacceptable to some. But when your child's illness is terminal, when the disease takes more and more and the treatments become riskier and offer less return, there are choices. The choices seem impossible, and they're painful. We believe that sometimes it's an act of love not to do "everything" to extend life and focus instead on giving your child the most beautiful life possible for as long as you're allowed." Said Moon. 
Diana Scolaro, the nurse who took care of Julianna through three stays in the intensive care unit, also supports Steve and Michelle's decision to listen to their daughter.
"You have to know what it's like to hold down a child and hear them scream so you can stick a tube down their nose. It's one thing to do that when you know you'll have a success at the end, but for Julianna, there is no success," she says. "We pulled her from death's door so many times last year, but she's sicker now than she was then, and I don't think we could pull her through another big crisis."

While Julianna's doctors support the family's decision, many people including the medical ethics committee have expressed their "discomfort".
"This doesn't sit well with me. It makes me nervous," Dr. Art Caplan, head of the Division of Medical Ethics at New York University's Langone Medical Center, told CNN. "I think a 4-year-old might be capable of deciding what music to hear or what picture book they might want to read. But I think there's zero chance a 4-year-old can understand the concept of death. That kind of thinking doesn't really develop until around age 9 or 10."
Another parent with a chronically ill child questioned Moon's motivation.
"Unbelievable that any parent would think a four-year-old is able to understand or make a decision on life, Clearly that mother asks her leading questions. This article sickens me. I have a child with a chronic illness as well."
Others argue that only Julianna can really say what the experience has been like.
"To say [Juliana's] experience is irrelevant doesn't make any sense," Dr. Chris Feudtner, a bioethicist and pediatrician at The Children's Hospital of Philadelphia, told CNN. "She knows more than anyone what it's like to be not a theoretical girl with a progressive neuromuscular disorder, but to be Julianna."
Daniella Hactchett came forward with her own story praising Moon for her selflessness.
"I am a girl like your daughter. I have a terminal genetic condition and have known my entire life I was going to die young and have accepted that. I think your decision to let her choose is amazingly selfless and great. My parents gave me that option and never made me do anything I didn't want to do. I chose to go to the hospital instead of staying home but that was my choice. Even at a young age (even when people said I didn't understand or was too young) I knew what death was and understood what it meant if I didn't do those things. I was young but had been through more than most go through in their entire lives, maturing me and giving me knowledge others did not have. I think you allowing her the right to chose to go to heaven in her own ways, with some dignity is the right choice."
It has been a year since Julianna last had an infection, and these months have been "a dream," Michelle says. But she knows it won't last forever. Any little cold could ruin the lovely dream. Her medical training and her faith tell her that she and Steve and Julianna will know when the end is near. And they will make a decision about what to do. Together.
You can read Michelle's blog here.