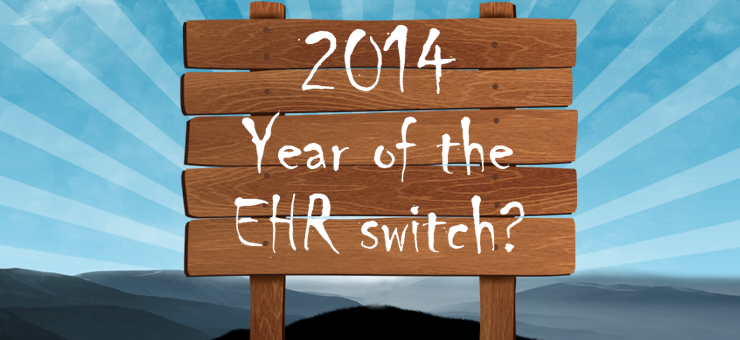 The Black Book Rankings survey cited that by the end of 2013, 17% of the nearly 17,000 active EHR users "could switch out their first choice EHR by year's end." This proved true to some extent but it is expected that the biggest percentage of EHR switches will take place in 2014.
Most EHR users blame themselves for not properly analyzing their requirements before selecting their first vendor with the primary objective of receiving government incentives. Other reasons for switching EHRs are that physicians are able to see patients for only 28% of their time compared to a whopping 44% of their time spent on EHRs. Additionally, 60% of physicians are dissatisfied with the way EHRs are affecting their daily practice workflows and now have to spend 16 more minutes entering patient data into the system than they were doing before the advent of these systems.
2014 will continue to see more EHR switches.  "We're seeing and we're going to continue to see a lot of system replacement activity and it's due to a variety of reasons," said John Whitham, Principal of Healthcare IT at ECG Management Consultants.
In 2014, there are going to be many changes in the healthcare industry.  ICD-10 will be launched in October. Then there's Meaningful Use Stage 2. And the regulations keep on changing every other day. This spectrum of challenges increases when physicians are faced with poor patient satisfaction levels, ever-changing technology, increased requirements to stay compliant and guarding themselves against data breaches. Adding to this is the factor that when healthcare organizations change hands or physician groups are acquired, the dominant organizations also push for a system change.
Changing an EHR system might work for some organizations, but it is also important to understand that physicians are not doing a very good job of optimizing the technology they currently possess. Physicians are making replacement decisions because they think the new system will work like magic for them. However, it is imperative to understand that selecting the right EHR vendor is as important as anything else. A small vendor with better technology and plans for innovation might be able to provide more benefit for physicians in the long run.
It is expected that one out of every six providers will choose to switch their EHRs in 2014, as reiterated by Bloomberg Businessweek. A September study by one of Kaiser Permanente's research arms shows that when doctors switched from paper to digital records, their diabetic patients made 5.5% fewer trips to the emergency room and were hospitalized 5.3% fewer times. These meek gains added up to savings of $158,478 for every 1,000 patients.
"There's something about being in an integrated system that allows everything to work better," says Marc Jaffe, a Kaiser Permanente endocrinologist who is a co-author of the study.
Businessweek further notes that 2014 "will be 'a make-or-break year' for electronic health records." Dr. Farzad Mostashari, who stepped down in October 2013 as national coordinator for health IT, opined that "In the past three years, we've been busy putting the systems in place. By 2014 these platforms are expected to be able to interoperate, which means 'talk to each other and to patients."