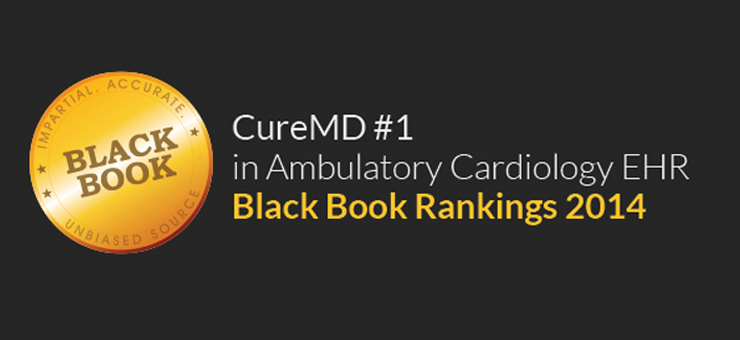 Black Book, a highly objective and credible technology market research company, has named its elite group of EHR vendors from over 600 EHR Software companies through a poll that consisted of more than 22,000 active EHR users.
CureMD has been named as the No.1 EHR vendor in Ambulatory Cardiology in 2014, under the category of 'Medical Specialties – Top ambulatory Electronic Health Record Vendors'. In an increasingly complex market that has witnessed a plethora of challenges such as the Meaningful Use Program and the ICD10 transformation, the annual survey aimed to rank the EHR vendors that came out on top.
Cardiology, being one of the most important clinical specialties in the country, has approximately 40,000 members according to the American Cardiology Association (ACA). According to the poll and survey taken by Black Book, CureMD has proved to be the best EHR Software compared to some notable vendors such as Athena, Amazing Charts, e- Clinical Works, CareCloud, NextGen etc.
What sets CureMD apart, is that its product has been designed keeping in mind the unique needs of this highly specialized branch of medicine and the software is supported by unparalleled customer support and a highly efficient implementations team nationwide.
CureMD recognizes that cardiology  practices require quick access to data such as images and test results and need to have the ability to keep track of crucial patient information to share it with hospitals and laboratories. Thus, CureMD's cardiology EHR offers functionalities such as a robust referral tracking system, E&M coding calculator, support for imaging, and easy-to-access templates for pacemakers, echocardiogram templates, cath exams, coumadin visits and more. Additionally,  the system can integrate with most equipment found in a cardiovascular practice or electrophysiology clinic, including electrocardiogram (ECG/EKG), echocardiogram, X-ray and MRI equipment.
You can learn more about the CureMD product by visiting their website at http://www.curemd.com/cardiology-emr.asp.
Visit http://www.blackbookrankings.com, for the Black Book Ranking results of 2011, 2012, 2013 and 2014 user surveys.