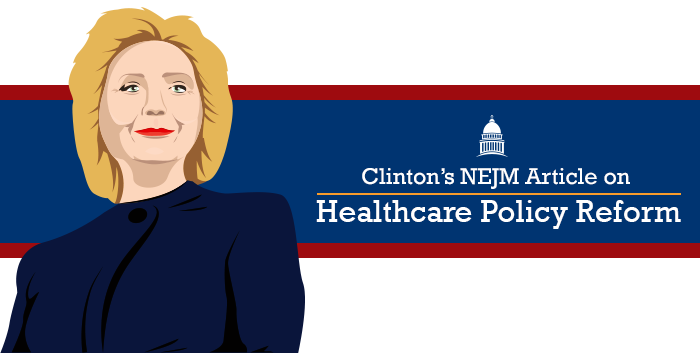 Recently the New England Journal of Medicine posed one specific question to both major presidential candidates regarding their healthcare policies. That question was: "What specific changes in policy do you support to improve access to care, improve quality of care and control health care costs for our nation? Secretary Clinton responded while Mr. Trump declined a response.
Mrs. Clinton's submission made it clear that she supports the Affordable Care Act (ACA), though admits it needs some revisions, but strongly denounces Trump's position to repeal ACA.
Here are 5 takeaways from Clinton's NEJM article.
1. Clinton Has Called for New Public Options
Though the affordable care act is synonymous with President Obama, Clinton has been a major supporter from the beginning. She has been quick to point out the gains that have been made in reducing the uninsured rate and has argued that health outcomes overall have improved since ACA's enactment.
In her NEJM article, Clinton stated the importance of "building on its progress" instead of repealing it. Adjustments she feels necessary are the expansion of Medicaid into the 19 states which have yet to do so, "enhanced tax credits" for buying insurance should be made available, and "an aggressive campaign" should be launched to boost enrollment on the ACA exchanges.
Like Obama did in his own medical journal article earlier this year, Clinton also called for new public healthcare options.
"We need to ensure the availability of a public option choice in every state, and let Americans over 55 buy in to Medicare," she wrote. "Taken together, these policies will increase competition, choice, affordability and the number of Americans with insurance."
2. Insurers Would Be Limited On Out-Of-Pocket Pharmaceutical Costs
When it comes to cost-saving proposals, Clinton focuses on pharmaceutical companies, suggesting a removal of "barriers to competition" to make the approval process of biosimilar and generic drugs less complicated.
"That includes proposals to ensure that drug companies justify their prices, eliminate 'pay to delay' practices, and allow Medicare to directly negotiate for better prices," she wrote. "I will also create a new federal consumer response team charged with identifying excessive price spikes in long-standing, life-saving treatments, and give them effective new tools to respond."
As part of her tax credit plans, insurers would be limited on the out-of-pocket prescription costs passed on to customers, with a $250 monthly cap for covered medications.
3. Clinton Proposes Moving Towards Value-Based Care Without Overburdening Physicians
The third section of her article, while not offering as many specifics as other sections, made one thing clear: she wants "to integrate our fragmented health care delivery system with reforms that reward value and quality."
She believes this goal can be reached by pushing public and private payers towards practices that reduce costs and, at the same time, reward "high-quality, patient-centered care." Interestingly, Clinton's article did touch on the common complaint that so much focus on quality measures are distracting physicians from their clinical practice.
"We need to recognize that our health care providers are always on the leading edge of caring for Americans," Clinton wrote. "So I will advocate for reforms that help doctors, nurses, and other caregivers spend more time with their patients, and lead our health care system into the future."
4. Increased Medical Research Funding
In recent years there has been some bipartisan agreement on the fact that more funding needs to go toward medical research, particularly through the National Institutes of Health. Clinton did, however, get specific in her article and advocated for additional investments "across all diseases," singling out Alzheimer's, HIV/AIDS and the cancer "moon shot" as specific research priorities.
5. She Briefly Mentioned Access to Health Data
Though it was not a detailed policy proposal, at the end of her article, Clinton did mention access to health data.
"I am also committed to expanding access to high-quality data on cost, care quality, and health delivery system performance to help patients and doctors make informed choices, and entrepreneurs build new products and services," Clinton wrote. "More available information—with careful protections for privacy and security—will make our markets more efficient and transparent."