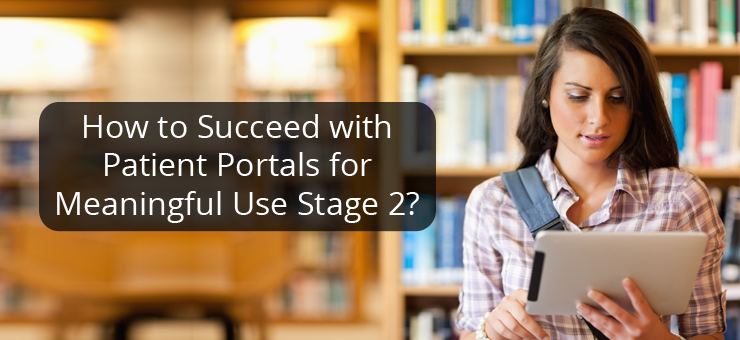 Utilizing a patient portal within a healthcare organization may have been an option for providers to meet Meaningful Use Stage 1 requirements. Now, for Meaningful Use Stage 2, it is a core objective that must be met.
CMS  requires eligible professionals not only to  provide 50% of unique patients online access to their healthcare information, they will now for Stage 2 need to have more than 5% of these unique patients view, download, or transmit to a third party their electronic personal health information.
Understandably, this is one of the more challenging objectives for eligible professionals to meet.  Recent stats indicate that only 10% of hospitals have been able to meet the view, download and transmit requirement; with private practices painting an even grimmer picture.
In this digital age, where consumers prefer doing just about anything online whether it is  booking a vacation, checking their banking details or ecommerce;  you'd expect them to embrace the availability of their health records online wholeheartedly. What then is hindering the deployment of patient portals? Are patients skeptical or are practices not doing enough? Though there is no black and white answer to this question, we can evaluate a few researches to get some meaningful insight.
A research by Technology Advice and Software Advice early this year indicated that 33 to 44 % of patients did not even know if their physician had a patient portal.
Most primary care physicians did not follow up with their patients after a visit. Of those that did follow up only 9% did so through a patient portal.
CureMD interviewed 5000 physicians to get their intake on the hurdles to patient Portal Deployment.
This research clearly brought an important point to the forefront. Three of the five top hurdles to implementing a patient portal were internal i.e., at the practice's end rather than the patients (Patients not tech savvy or preferring phone calls is an external problem).
Though practices might not be able to control external factors they can definitely minimize hurdles by creating a buy-in for patient portals in their practice. Read on to learn what successful Patient Portal implementers have done differently.
How to Create a Buy-In for Patient Portals at your Practice
Achieving Meaningful Use incentives requires team work. The benefits therefore should not be limited to you alone. Create a bonus scheme where your staff will also benefit if you successfully achieve the consecutive stages of MU. Remember: it is not about earning incentives only but also avoiding penalties.
Patient Portals can cut a lot of manual, time consuming work that your staff has to do on a daily basis. If used correctly your patients can provide their demographic, past histories and consent forms through the portal.  Many patients can simply choose available appointment slots on the portal rather than having to call to schedule an appointment.  Highlight to your staff, the improvements in their workflow created by the use of a portal.
Helpful tips for launching your portal
First understand the functionality that will motivate your patients to use the portal. Patients told software advice that they would like the ability to request appointments, refills, pay their bills online and converse with staff via email. However these preferences are not standard across the board. Make sure the features you select align with your patient demographics.
a) If you have a predominantly female practice, invest in a portal that allows your patients to view their health records and lab results.
b) For a predominantly male practice, portals that allow online scheduling and refill requests work best.
c) For practices with older patients (55+), evaluate systems that offer online scheduling and viewing/refilling prescriptions.
Talk to your EHR Software vendor and ensure their patient portal is certified for each requirement. You can also request them for a test drive of the portal. Use it yourself to estimate the level of complexity. Navigation in the portal should be easy if you want more and more patients to use it.
Ensure your patient portal is easily accessible and easy to use.  Have it integrated with your practice website if possible.
Provide patients instructions on how to log into their portal to view their healthcare information.
Explain the benefits of using the patient portal.  In an era of  increasing copays , your patients can actually save money by sending emails to the Dr. for small queries rather than having to come in every time. On your end make sure that someone in your office replies to these emails. Refill and appointment requests can be handled by your staff while clinical queries can be addressed at your end.
Mention your new patient portal on your office voice mail and encourage patients to ask the staff about setting it up.
Consider adding a computer station in a public area in your office. Have one of your staff take your patients through a tour of the patient portal.
Follow up with your patients through phone calls and emails if they have not registered for the portal.Want to develop a Patient Portal strategy?  Read our physician's guide to patient portals for more tips.
Are you looking to implement a patient portal in your practice? Feel free to request a demo of CureMD's free Patient portal with our integrated EHR and Practice Management System.