Unless you have zero interaction with digital technology, which is unlikely since you are reading this blog post, you've most likely heard about the latest Pokémon Go craze. The new GPS-based augmented reality game is drawing more attention from consumers and the media than even the upcoming Olympic games or presidential election.
Pokémon is an insanely popular franchise that began in Japan and quickly gained popularity in the US in the 1990s. There was a TV show, trading cards, and video games. And now, with this latest app, people are reconnecting with a bit of nostalgia.
How do you Play?
Here's the long and short of it: the app uses the GPS and camera on your phone to track your real-world locations and augment reality so you can see the little monsters in your world. You might see one in your fridge or sitting next to you on the bus.
The goal of the game is to find ALL of these monsters, capture them and train them so they can eventually do battle with other players' monsters.
But what does any of this have to do with healthcare? Well, there are those in the healthcare industry who are praising the game for its health benefits, while still others are warning of the dangers.
What, if any, are the possible health benefits of the game?
According to Matt Hoffman, DNP and clinical assistant professor at the Texas A&M College of Nursing, the game is great for public health. "Playing the game is a lot of fun, and it has been a catalyst to get people moving," said Hoffman who has been affectionately dubbed the "Pokémon Professor" by co-workers.
There is something to be said for a new kind of video game that takes people off of their couch and gets them walking outside. But just how does the game get people moving?
To progress in the game, players, called "trainers," must walk around their local town or city to find and catch Pokémon. They must also do a good bit of walking to find specific locations called Pokéstops — where Pokéballs and other useful items are collected.
Unlike traditional video games, where the only thing seeing much action is your thumb and the avatar onscreen, playing Pokémon Go does indeed require players to be physical.
Hoffman admits he spends quite a bit of time playing the game. "I've spent an hour or two at a time venturing around the community to find Pokéstops. And, to hatch one egg, a trainer must walk anywhere from one to six miles. There's no doubt about it, I am exercising more as a result of playing the game, and I am enjoying it."
If estimates are correct, which put worldwide Pokémon Go enthusiasts in the millions, Hoffman isn't walking around alone. That's a lot of people walking more miles on a daily and weekly basis than they normally would.
Emotional and Mental Health Benefits
Beyond the physical benefits of being more active, the game seems to create a sense of community among players. "The game is bringing people together, providing opportunity for social interaction and increasing our sense of belonging, which can have a positive impact on our emotional and mental health," claims Hoffman.
Numerous studies have found that social interaction is important for a person's health and well-being. So perhaps Pokémon Go is also a catalyst for essential social relationships as well.
For all of the health benefits the game may offer, there are those who warn that Pokémon Go also comes with health risks.
Watch Where You're Going!
This has been a valuable piece of advice for generations. But perhaps this advice is particularly timely since the release of the game. "We often hear of people falling off curbs or sustaining injuries as a result of staring at their phones and not paying attention to their surroundings," Hoffman said. "It's good to always keep safety and best practices in mind."
But beyond a sprained ankle or scratches and scrapes, the game can take players into locations that pose real dangers. For example, two men fell off an ocean bluff while attempting to catch a Pokémon in San Diego.
Users, whose attentions have been entirely on their phone, have been the victims of robbery and attacks.
Bosnia has warned its citizens of the real dangers of playing the game in certain areas, citing the risk of players wandering onto old landmines that have existed since the 1992 Bosnian War.
In Japan,  reports of robberies, traffic accidents and other mishaps abroad already have the government worried.
In seemingly less dangerous, though risky situations, users have wandered around during peak hours of the summer when the sun is particularly hot and harmful. Hoffman advises players take necessary precautions. "Also, summer days are very hot, so use sunscreen and drink plenty of water before heading outside during peak heat times."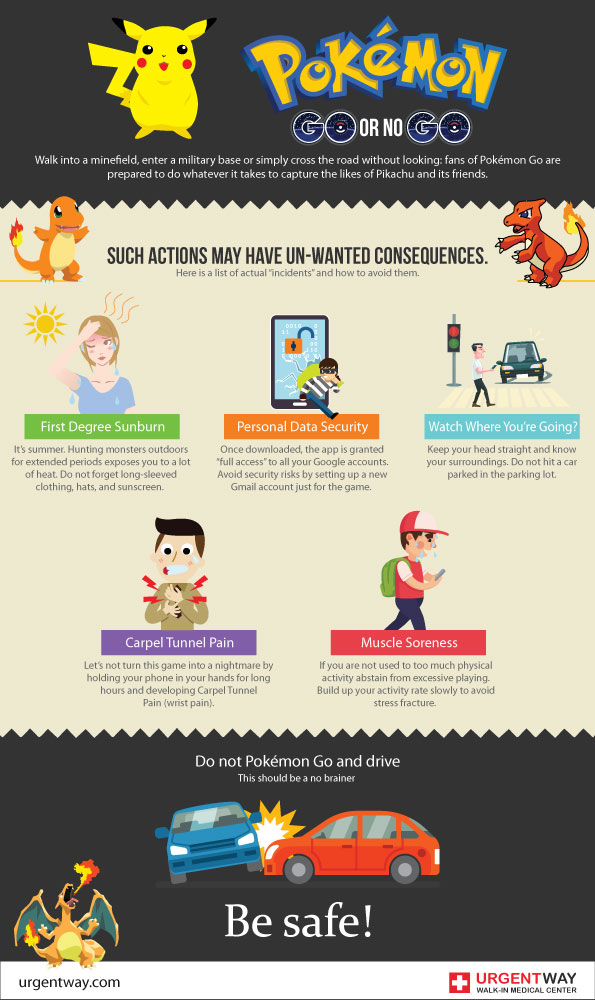 It seems that perhaps whether or not Pokémon Go offers more health benefits than health risks comes down to the individual players. Those who use their heads and common sense will most likely come out unscathed.
Are you one of the millions playing Pokémon Go? Do you think it offers more health benefits or risks to users? Let us know your thoughts in the comments below.