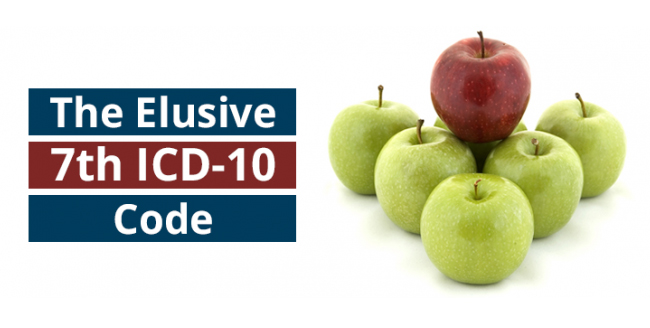 CureMD's  "Tell Me Why" blog series will answer any questions about ICD-10, its code structure and usage. If you have a query, please submit it in the comments section below.
Alternatively, you can register for our ICD-10 Physician Training program to talk to experts.
The Elusive 7th Character
The 7th character in ICD-10 can be as deadly as the seven deadly sins. Confused about when and where to use it? Don't worry! This blog post will answer all your questions about this horrendous ICD-10 invention.
What does the 7th Character Mean?
Seventh character extensions are usually a letter and are used to identify Specific information about the clinical episode. The addition of the 7th character is one of the biggest differences between ICD-10 and ICD-9 code sets.
Can the 7th character be mapped in ICD-9?
The answer is NO. ICD-9 code structure is limited to five characters only; moreover it does not capture the level of specificity which is required by ICD-10. The 7th character captures excessive detail and hence cannot be mapped to any existing icd-9 code. With ICD-10, it would now be possible to code the extra level of detail which the doctors used to document previously but had no corresponding codes for it. It's a whole new phenomenon.
How to identify if a 7th character is needed?
Not all codes require a 7th character. Make sure to follow the instructions under each chapter provided in the official ICD-10-CM Tabular list. These instructions clearly indicate if a 7th character is needed.
Adding a 7th code when not required or vice versa can lead to claim denials, so caution is advised.
Essentially the 7th character is used in the following chapters:
Chapter 13, Diseases of the musculoskeletal system and connective tissue
Chapter 15, Pregnancy, childbirth and the puerperium
Chapter 19, Injury, poisoning and certain other consequences of external causes
Chapter 20, External causes of morbidity
When to use which 7th Character?
A, Initial encounter
Initial encounter is used when the patient is in the active phase of receiving treatment. For e.g. any surgical procedure, emergency encounters, etc. It is important to note that this extension refers to the patient's initial encounter with the injury and not with the physician. Even if the patient visits three different physicians but is still in the active phase of receiving treatment, initial encounter will be used.
Let's suppose you are coding for a patient with (Strain of right Achilles tendon, S86.011). Following would be the code structure in this scenario:
Patient gets admitted into the emergency room and the ED physician diagnosis him with S86.011A, Strain of right Achilles tendon, initial encounter.
The patient then goes to the radiology department to get his X-rays and lab work done. The code used at this stage would again be S86.011A, Strain of right Achilles tendon, initial encounter.
The physician splints patient's ankle and asks him to consult an orthopedic surgeon. The patient visits the orthopedic surgeon 2 days later and discusses his further treatment. At the end of the discussion a surgery is scheduled next week. The surgeon would report this visit using the code S86.011A, Strain of right Achilles tendon, initial encounter.
Finally a surgery is performed as scheduled. This surgical procedure would again be coded as S86.011A, Strain of right Achilles tendon, initial encounter.
D, Subsequent encounter
Subsequent encounter is used when the patient has progressed into the healing/recovery stage and is no longer in the active phase. It involves suture removals, routine checkups after the injury, any changes in medication or follow up visits made to the physician's clinic.
Let's continue with the same example as above
After the surgery the patient gets admitted in the hospital for a few days until he is well recovered. Now that he is in the recovery phase the code would be a subsequent encounter S86.011D
The patient then gets discharged from the hospital and visits later to get his stitches removed and get his pain medication adjusted. The code reporting this visit would be S86.011D indicating a subsequent encounter.
Remember that these extensions initial and subsequent have nothing to do with the established or new patient visits mentioned in CPT codes.
S, Sequela
Sequela is used when any complication or condition arises directly as a result of a condition. Most common example of which is scarring of skin post a burn. Coding for sequela isn't time specific since they can appear as early as a week or may even take up to years depending on the injury which caused it. When coding this extension make sure to follow the below mentioned order
First code the condition or nature of the sequela
Second code the sequela code itself
When to include the place holder "X"?
For codes with fewer than 6 characters the use of dummy placeholders denoted by "X" is required, preceding the 7th character. These are to be added in all the empty slots which are there between the first and the 7th character. It's important to note that this place holder is not case sensitive and is not optional.
For example you have diagnosed Sprain of unspecified site of left knee in a patient, the correct diagnosis code for which is S83.92. Now a 7th character is needed to be added to this code and since this code has fewer than 6 characters, you would add the dummy place holders in the empty spots. Now let's assume that the patient is in the recovery phase of the condition, hence you will add the 7th character extension "D". Your final code would now be S83.92XD.
Things to remember
It's compulsory to include a 7th character when required in order for a code to be valid. Do not consider to be an option.
The 7th character must always be used in the seventh position.
Placeholder "X" needs to be added to codes with fewer than 6 characters.
Only three options (A, D, or S) are to be used when coding for injuries. (Not fractures)
The 7th character extensions are not related to the CPT codes.
Coding the 7th character extension for open and closed fractures is more complex and will be addressed in future blog-posts.
We understand that the 7th character can be mind boggling at times, however with practice, patience and passing time it will become manageable.
To know more about ICD-10 conventions register now for our specialty specific ICD-10 webinar for internal medicine where we focus on equipping you with ICD-10 fundamentals essential for your ICD-10 success.