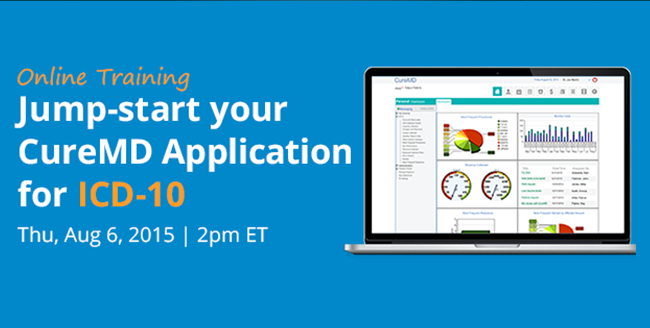 CureMD is launching its ICD-10 Application series to prepare our Practices for ICD-10.
From August till the transition deadline, we will regularly conduct training sessions to prep your practice on what needs to be done in the next two months.
Join us on August 6 to see how ICD-10 will work on your CureMD application. We recommend all practice managers and providers to be a part of this initial training.
Date: August 6
Time: 2 pm EDT
What if I miss it?
We will be sending a recording of this session to all our customers. The video recordings will also be hosted on our self-help module CureWiki.
Why should you attend it?
For the subject matter of course! We will walk you through :
How to map a patient's ICD-9 codes with ICD-10
How to access CureMD's new Order screen
How to undergo ICD-10 transition without disrupting your day to day operations
Also, we will be sharing an ICD-10 implementation checklist for CureMD customers.
For any queries, please drop an email at webinars@curemd.com