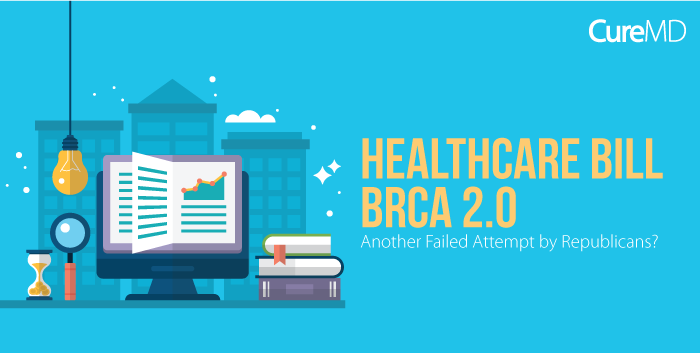 Republicans are putting in maximum effort to replace the Affordable Care Act with the Better Care Reconciliation Act, but so far their efforts seem to be in vain as their own party is unable to unanimously agree on the changes proposed. In order to win a majority, the new healthcare bill can only afford to lose two Republican votes; currently approximately ten Republicans are expressing concerns with it. Senate Republican leadership presented yet another bill on July 13th with proposed amendments, some of which kept a few key factors of Obamacare intact. However, this updated version was also unable to attain substantial support as the sentiments of the conservatives who opposed the previous bill seem to be unwavering.
Here is what was amended in the BCRA:
Some taxes stay– While Obamacare's taxes were considered a major threat to economic growth and job creation, they were necessary to support expensive Medicaid and Medicare programs and ensure that Americans had access to affordable healthcare. Republicans have decided that some of Obamacare's taxes can stay, such as the 3.8% tax on high-income individuals earning more than $200,000 a year. They are also planning to keep the tax on healthcare executives and the Medicare health insurance tax, but smaller taxes will be touched upon. This new amendment is not likely to make tax opponents happy, but it may make the bill more palatable for those who think Obamacare's taxes were necessary. It is also not going to sit well with the electorate of Republicans as repealing these heavy taxes was the main mandate for their campaign.
The opioid crisis is given high-priority- The opioid crisis is affecting the US's labor force as the number of drug-related deaths has increased more than tenfold since 2000. Moreover, the number of people working or looking for work has decreased immensely, stagnating nearly 63 percent in the last four years, the lowest since the Great Recession. The American Society of Addiction Medicine quoted that American employers originally allotted only $2 billion for combating the opioid crisis, while the new bill proposes a hefty $45 billion.
 Funding to offset costs for insurers- An amendment is included stating that if an insurer offers a plan on the exchange which adheres to all of Obamacare's regulations, they can also offer plans off the exchange that don't adhere. Insurers who provide high-risk individuals with deregulated plans off of the exchange will be covered with a $70 billion fund.
 Tax credits can be used on skimpy health plans- While Obamacare did not allow tax credits to be used against health care plans that provided skimpy coverage as they did not meet the minimum requirements, this new bill does just that. Hence, people who are registered under haphazard healthcare plans can claim tax credits against them.
 More of the state stability fund- $70 billion will be added to the already $112 billion fund given to states to help them keep premiums down and to set up programs that will facilitate insurers and consumers. The government will hold back 1% of the stability fund for states where premiums are 75% more than the national average, which sounds like a warning directed towards Alaska.
 Health savings accounts can be used to pay premiums- An additional provision states that people can use their health savings accounts to pay premiums, as health savings accounts are not taxed.
According to popular opinion, while this new proposed bill aims to rectify some of the shortcomings of the previous BRCA and the ACA, it still won't gain support from the majority. Though some taxes are kept, it still does not ensure that the millions of people who would be without health coverage by the year 2026 due to the BRCA will receive affordable healthcare. Thus, the bill still does not appear to be pro low-income America, and does not address the major $772 billion cut in Medicaid expected by 2026.

Mothers who have children with disabilities such as autism and diabetes are worried about the outcome of the cut to Medicaid and how they will cope with the extra medical expenses. Many who were previously uninterested in politics have now become political activists out of concern for the future of their children. The new bill may mean that children with certain types of severe disabilities would be given funding while others would have to rely on their parents/guardians to manage expenses.
Programs such as Ph-95 which provides assistance to children with disabilities in Pennsylvania regardless of their family's financial status are major contenders for a Medicaid cut, meaning that many people who do not qualify for Medicaid but are benefitting from this program would face problems. Medicaid cuts may also mean that people using it to pay for their parent's health plans and nursing home expenses would take a hit. Accordingly, a majority of people are concerned with the proposed Medicaid cuts, and the new bill does not provide any clarification on whether this will be reduced, which has generated significant uncertainty and unease.
As mentioned previously, the bill does not seem to be popular amongst Republicans themselves as some of them have stated that they see no improvement in the new version and will still not be voting "yes" on it. Others are of the opinion that Senator Mitch McConnell is trying to get votes by adding some government spending to the bill, but it still is not good enough to ease their concerns.
Senator Rand Paul of Kentucky said that the conservatives should just aim for a small partial repeal of Obamacare instead of attempting to make big changes, only touching upon some problematic areas.  However, President Trump himself is urging Republicans to accept the change in healthcare law and perform their duty appropriately. He says that it is about time that the 7-year trouble caused by Obamacare comes to an end and he expressed his views very explicitly through his favorite form of communication- Twitter. Before the Bastille Day Parade in France, the President tweeted, "After all of these years of suffering thru ObamaCare, Republican Senators must come through as they have promised!" This was followed by a series of tweets encouraging Republican Senators to make a move, and this only ended once the Bastille Day Parade began.
Yet, it still doesn't look like this new bill is going to go through anytime soon, and the Republicans are sure to come up with something fresh as soon as possible.
Do you think the amendments proposed are satisfactory? Do you think they're an improvement to the BRCA? Do you think President Trump's encouragement will cause Senators to vote in favor of the bill? Let me know in the comments below.