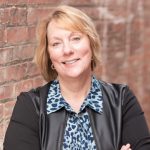 As we close out this Oncology Nursing Month, and we're so excited to celebrate our very own Kris Lutkowski, BSN, RN, OCN-E, Senior Manager at CureMD Oncology. With 17 years of experience in oncology nursing, we're so grateful for the expertise and compassion Kris has brought to the CureMD team.
In this Q&A session, we sat down with Kris to learn more about her experience and journey as an oncology nurse. We celebrate the invaluable contributions of oncology nurses like Kris to improve the lives of those affected by cancer this month and every month.  
What inspired you to become an oncology nurse and how did you get started in your field?  
I graduated with a degree in Gerontology, the study of aging processes and individuals across the life course. I've always had an interest in improving the quality of life and promoting the well-being of people as they age through research, education and practice. In retrospect, this laid a good foundation for some of the traits and understanding that lead me to later pursue a career as a nurse, such as empathy, interpersonal communication, and sometimes, a warped sense of humor!  My first experience as a nurse was in an inpatient oncology unit where I gained a lot of critical thinking skills, understanding patient needs, and a broader knowledge of chemotherapy. I found my home and I never left the world of cancer care. 
What led you to CureMD? What was the transition from a hospital-based setting to the health tech industry like? Can you share what qualities/skills you brought from your nursing experience to CureMD?  
Nursing is unique in how it allows for so many different roles and career opportunities. After spending many years on the oncology clinical transformation team at a large hospital system in NYC, I learned about CureMD and their mission to save lives through technology. I found a home where I could lead with my heart and my nursing knowledge.   
Can you describe a particularly challenging or rewarding experience you had working as an oncology nurse?   
The reality is that nursing can be hard. My time as an oncology nurse often involved providing support for patients in hospice, palliative, and end-of-life care, which can be emotionally taxing and challenging. It was, however, rewarding to do everything I could to provide maximum care and comfort to patients. So, I'd say being with a patient and their families at the end of life is a combination of both. I have always looked at that experience as nothing short of a privilege. 
What do you see as the biggest challenges facing oncology nurses today, and how can we address these challenges?   
We are seeing unprecedented staffing and resource shortages across the entire healthcare system that have major implications for the quality of care nurses are able to deliver to patients. Nurses are overworked, underpaid, and taking on more responsibilities than ever. I think we can address some of these challenges by implementing technology solutions and new functionality that can assist nurses in taking some of the burden off their current roles so that they can spend more time with patients.  
What are some things you like to do when you are not at work? 
Outside of work, I love spending time with my husband of 37 years and our family dog, Mr. Pickles. I'm also a voracious reader and also love to binge watch shows. I'm currently watching the final season of the Marvelous Mrs. Maisel and am so sad to see it end!