Every day providers encounter obstacles while planning effective treatments for oncology patients. Some of it is caused by the intractable nature of the disease, but a lack of access to data is a significant problem as well. Despite the fact that Big Data exists, the average practice doesn't have access to it, adversely impacting patient outcomes. Siloed information has always been a problem in healthcare; now the American Society of Clinical Oncology (ASCO) has made it their business to change that.
ASCO has created CancerLinQ, a health information technology platform aimed at enhancing and improving the understanding and treatment of cancer through the use, and sharing, of Big Data. It allows oncologists to see trends among millions of patients with almost every treatment, tumor type, and genomic profile. Instead of silos, CancerLinQ connects and analyzes real-world cancer care data from electronic record sources and then makes the data searchable and relevant to the specific oncologist's needs.
The new president of the ASCO, Monica M. Bertagnolli, MD, FACS, FASCO, clearly articulated the need for CancerLinQ in an interview broadcast on the organization's podcast.
CancerLinQ Provides Early Look at Big Data Initiative
"Our world has gotten much more connected with technology but we're still too siloed even in that technology. We can't have that in oncology. It's very clear to all of us that we cannot transform care, health care or oncology care, without more knowledge. We desperately need more knowledge. There are many ways right now that we seek to gather knowledge that is challenging, cumbersome, and difficult. Nothing exemplifies that like the clinical trial system. It is a great time to rethink the clinical trial system, how we do that work to make it more effective, less expensive, more able to reach patients at all levels of our society?"
Millions of cancer patients, few in clinical trials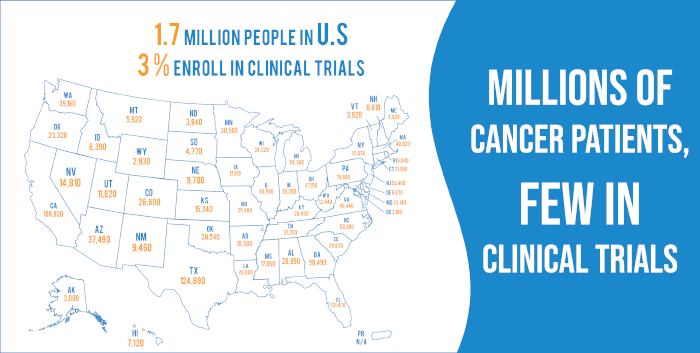 CancerLinQ states that 1.7 million people in the U.S. are diagnosed with cancer each year, but only 3 percent enroll in clinical trials. To improve care for every patient, the research and practice communities need insights from the other 97 percent of people receiving cancer care. CancerLinQ addresses that issue by gathering data from oncologists and combining it into one massive, shared database. It gives practices access to "real-time clinical quality metrics and prospective analyses that identify opportunities to improve performance". The massive pool of de-identified data represents "a rapidly growing number of cancer patients from across the care continuum including patients of all ages, genders, geographic areas, and care settings."
Related Article: The Powerful Need to Transform EHR to Reduce Physician Burnout
The effort is gaining traction. One hundred practices in 40 states and the District of Columbia representing more than 2,000 oncologists are now part of the CancerLinQ system. The database now surpasses 100 million de-identified patient records. It is growing, in part, because oncologists can join at no cost to their practice.
It is the ultimate sharing of information. Each participating practice contributes data on their patients to the database. In turn, they can match each individual patient's care against quality standards and data from patients with similar characteristics to make a more informed decision about their care.
CureMD's partnership with CancerLinQ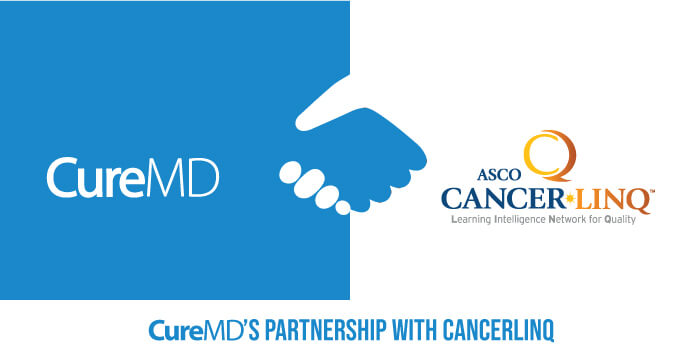 Of course, the CancerLinQ system is only as good as a practice's ability to participate. Physicians must be able to accurately document patient data in order to contribute to the Big Database. That's where electronic health records (EHR) come into play and only the very best can intersect with the ASCO's CancerLinQ. CureMD is one of the few that does. In fact, it is one of only a few EHR systems in the world which is ASCO CancerLinQ certified. The CureMD platform delivers complete information and evidence-based knowledge when and where required – facilitating informed and effective decision making to improve the quality of care, practice performance, and patient experience.
CureMD Oncology has been designed with unprecedented attention to detail and input from practicing providers and staff. As a result, it meets the following ASCO standards:
Supports the creation and maintenance of health records including, but not limited to, individually identifiable oncology and /or hematology patient information
Maintains a leading industry standard for the recording of precise, structured, and standardized clinical data
Meets certain federal standards for EHR technology, interoperability, privacy and safety
Works to achieve the continuous, secure transfer of data to the CancerLinQ system from patients associated with practices that both participate in CancerLinQ and use our EHR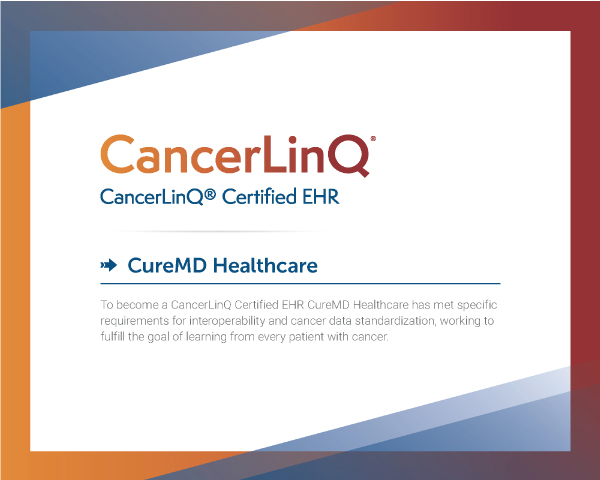 The CureMD Oncology EHR provides extended support for multidisciplinary, data-intensive processes with advanced features that help to improve care quality and user throughput. They include:
NCCN order templates library
Advanced treatment planning tools, decision support for drug dosage management and integrated flow sheets allow clinicians to have a complete view of all therapy characteristics including historical dosage changes, lab trends and adverse events throughout the treatment life cycle.
Customizable templates bring information automatically to create structured progress notes.
Paper charts, clinical images, photographs, x-rays, and medical drawings can be captured, scanned or attached directly into the chart.
It's not an overnight exercise. The systems that comply with CancerLinQ requirements have been built with streamlined functionality and intuitive specialty workflows. Once again, they are proving their worth as oncologists can experience the flow of perhaps life- saving data and information for their patients.