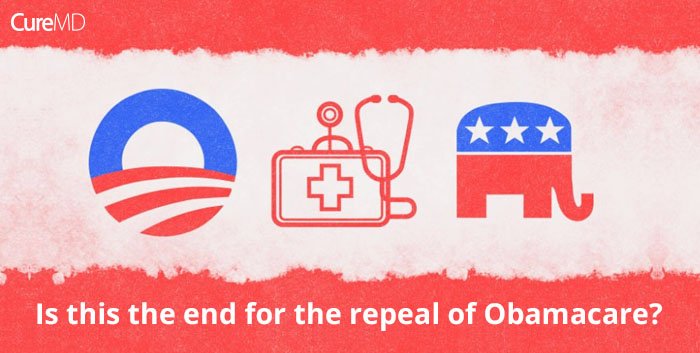 Former President Barack Obama's legacy healthcare law has been under scrutiny for quite some time. While the Republicans are unable to offer a replacement, they decided to repeal the law without another solution but failed to do so with a 49-51 vote including three Republicans against repealing. This means that Obamacare stays.
This failure worsened the Republican situation as the party's representatives are now realizing that repeal without replacement cannot work. Senate Minority Leader Schumer said that the Democrats would not be offering any more amendments. This is an embarrassing defeat for President Trump as this was his major campaign promise.
Senator McCain made a rebellious move by letting down his own party and the President by voting against what is now called the "skinny bill". His vote combined with Senator Collins and Senator Murkowski were what stopped the bill, adding insult to injury in the Republicans seven-year struggle.
However, the Republicans are confident that what they have done is right, believing the repercussions of repealing Obamacare without another plan in place would be detrimental to the American people. One of the major reasons for retaliation against the "skinny bill" was that it was divergent from what Republicans initially promoted in their campaign. Nevertheless, Republicans saw it as the only way that Obamacare could be repealed under the present circumstances.
While many Republicans think that it is now time to move on to other important issues, President Trump thinks otherwise. He is urging his Senators to keep up the fight and to repeal and replace or to simply repeal. In fact, his urging has now converted into threatening Tweets, highlighting the consequences for Members of the Senate if an alternate healthcare bill is not approved.
Whether the Republicans want it or not, President Trump is definitely going to continue. Success is another story altogether. This is what the President Tweeted after the horrible defeat:
3 Republicans and 48 Democrats let the American people down. As I said from the beginning, let ObamaCare implode, then deal. Watch!

— Donald J. Trump (@realDonaldTrump) July 28, 2017
For more, please click here.