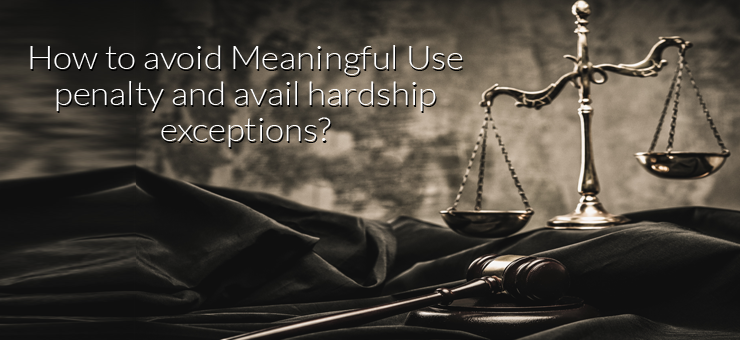 Highlights
Avoid Meaningful Use penalty; start Meaningful Use program by July 1, 2014
Deadline to attest for 90-day reporting period ends on October 1, 2014
Any attestation that follows October 2014 will have a reporting period of 1 year rather than 90 days
CMS allows for hardship exceptions until July 1, 2015
Only selected providers eligible for hardship exceptions
While the government has paid out more than $22 billion in Meaningful Use incentives, the fact of the matter is, a lot of providers are still struggling to meet the criteria worse, quite a few of the Electronic Health Record set out by the Centers for Medicare and Medicaid Services (CMS) for Stage1 and 2. To make matters technology available these days is not helping providers take advantage of the government incentive program.
In the American Recovery and Reinvestment Act (ARRA) of 2009, Congress made it mandatory that payment adjustments (reduction in Meaningful Use incentive payments) should be applied to Medicare eligible professionals (EPs) and eligible hospitals (EHs) who are not meaningful users of Certified EHR Technology under the Medicare EHR Incentive Program. This was largely done to ensure providers switch to technology for delivering care as soon as possible. As of today, nearly 80% of US physicians are using EHR technology to manage their practices and maintain patient records.
However, a large percentage of physicians are still unable to meet Meaningful Use requirements and after a lot of hue and cry, the CMS finally allowed Meaningful Use hardship exceptions that physicians and other EPs may seek to avoid penalties in 2016 if they fail to show meaningful use of EHRs in 2014. The basis for this new exception is that the EP's EHR vendor was unable to obtain 2014 certification or the EP was unable to implement Meaningful Use due to 2014 EHR certification delays.
And this is the most important part. EPs who have attested to Meaningful Use in previous years now have until July 1, 2015, to apply for a hardship exception. Those who have not previously attested and who seek to avoid a 1% penalty in 2015 must start their Meaningful Use program by July 1, 2014.This means that there is just under a month to go starting today if you are not already attesting for the Meaningful Use program through a certified EHR vendor. On average, a typical EHR deployment will take around 3-4 weeks to be completed. If you are not already registered for the Meaningful Use program, the time do is now. If you delay your decision by another week or so, chances are, you will be subject to a Meaningful Use penalty starting next year.
While physicians are required under the Meaningful Use program to attest for a whole year, in 2014, the CMS has allowed them to attest for only a 90-day period until October 1, 2014. This means that the latest they can start their Meaningful Use program is by July 1, 2014. This exception is only in place for this year and those who start their Meaningful Use program after October 1, 2014, will have to report for an entire year.
Hardship Exceptions
Eligible professionals and eligible hospitals may be exempt from payment adjustments if they can show that demonstrating meaningful use would result in a significant hardship.  To be considered for an exception, an eligible professional or eligible hospital must apply for hardship exception along with proof of the hardship.  If approved by the CMS, the hardship exception is valid for 1 payment year only.
However, not all providers need to apply for hardship exceptions. Some will be automatically granted an exception for 2015. New providers in their first year, eligible professionals who are hospital-based and eligible professionals with certain PECOS specialties do not need to apply for hardship exceptions.
Eligible professionals can apply for hardship exceptions in the following categories:
Infrastructure: Eligible professionals must demonstrate that they are in an area without sufficient internet access or face insurmountable barriers to obtaining infrastructure.
New Eligible Professionals: Newly practicing eligible professionals who would not have had time to become meaningful users can apply for a 2-year limited exception to payment adjustments. Thus eligible professionals who begin practice in calendar year 2015 would receive an exception to the penalties in 2015 and 2016, but would have to begin demonstrating Meaningful Use in calendar year 2016 to avoid payment adjustments in 2017.
Unforeseen Circumstances: Examples may include a natural disaster or other unforeseeable barrier.
Patient Interaction:

Lack of face-to-face or telemedicine interaction with patient
Lack of follow-up need with patients

Practice at Multiple Locations: Lack of control over availability of CEHRT for more than 50% of patient encounters.
2014 EHR Vendor Issues: The eligible professional's EHR vendor was unable to obtain 2014 certification or the eligible professional was unable to implement meaningful use due to 2014 EHR certification delays.
A healthcare ecosystem which fosters on seamless exchange of information between stakeholders is the future and meaningful use of Electronic Health Records holds the key to it. If you are not using technology to deliver better patient care already, the time do is now.
If you are interested in learning more about how CureMD is helping you achieve Meaningful Use benefits,download this free white paper. If you want an interactive session on the Program and its challenges this year, register for a free webinar here.