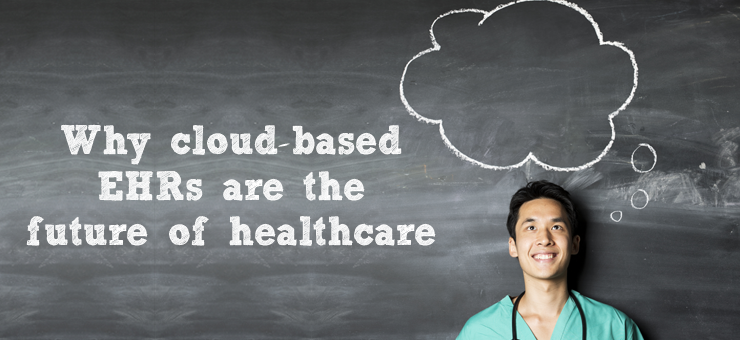 Almost every physician these days is using Cloud-based Electronic Health Records and Practice Management software to deliver better care and manage his practice. However, there are quite a few who are still unsure about putting their most important data on the Cloud, and end up using archaic systems which not only affect their workflows, but also leave a big dent in their cash reserves.
Physicians who are not sure about Cloud technology often feel that they are not in complete control of the data when they can't see exactly where it goes. As a matter of fact, the situation is completely different which I will explain later in this article.
Read more: Privacy and security of health information on the Cloud
The fear of embracing change has rendered many physicians across the country to continue using paper charts at their practices. It can be established that these physicians are in a state of denial by not wanting to get on the EHR bandwagon. They don't understand what the Cloud has to offer. I hope to change those perceptions today.
Let me start off by doing a comparison of cloud-based systems versus server-based systems and then we'll take on the discussion from there.
Comparison of Cloud-based systems vs. Server-based systems
| | |
| --- | --- |
| Cloud-based systems | Server-based systems |
| Less or no up-front costs for licensing | High up-front hardware/licensing costs |
| No server hardware or software to purchase/house/maintain | Usually, dedicated departments/personal required to maintain server-based systems |
| Easier to transition to a new system | Very difficult to shift |
| More cost effective for new/small practices | Due to high costs involved, not an ideal solution |
| Better support | Support is always struggling |
| Easy data recovery in case of a disaster | Natural or organizational disasters can destroy the data |
| Vendors typically have more sophisticated security measures/data protection Read more: How to ensure Cloud data security | Once purchased, vendors are generally no longer responsible for data protection |
| Vendors more likely to meet HIPAA regulations than the practice | Manual efforts required to meet HIPAA regulations |
| Better alternative for physicians who are on the move/work on mobile and tablet devices | No mobility at all |
Pricing
While this table is pretty conclusive which is the better model, let me give you a rough price comparison between the two. A Cloud-based system will usually cost a one physician practice anywhere from $1,500 to $3,000 to get started. On the other hand, a server-based system usually costs around $8,000 in the beginning. That said, you will have to pay separately for the additional updates, managing an entire IT department to look after the system and spend hundreds of thousands of dollars to ensure timely backups and software encryption in the server-based model.
Advantages of Cloud-based system
Let's now turn our attention to some of the advantages of a Cloud-based system.
In a Cloud-based system, data is easily accessible at any time, virtually from any device. All that a physician needs to do is to get on the internet, sign in with his credentials, and he has complete access to his practice anywhere in the world.
One of the biggest advantages of the Cloud-based model is that it costs a fraction up-front of what a normal server-based system would. You spend nothing on expensive hardware and software can be up and running in no time.
Physicians can spend more time with their patients with a Cloud-based system as it is robust, reliable and does the charting much more efficiently. On the other hand, a server-based system is not as fast and reliable, and can slow down the charting process a lot more, leaving patients frustrated and yearning for their physicians' attention.
Better resource allocation
A Cloud-based system reduces duplication of work and the need to hire more staff to do additional tasks. More so, a lot of current staff members can be given additional tasks and used in areas which help a practice deliver even better care.
A Cloud-based system is completely scalable. You can always ask for additional services and they will be deployed in no time. In case you don't want to avail a service, you can always have it stopped. Such kind of flexibility is never possible in server-based EHRs.
Verdict
Cloud-based architecture helps healthcare organizations keep their information secure, available at all times and share with patients or regulatory authorities whenever required. This is the kind of flexibility that is unmatched by any other architecture.
Cloud also helps practices manage their workflows remotely and conveniently. This single-most factor is going to reduce the demand of primary care physicians, nurses and support staff even more in the future and reduce cost of healthcare delivery.
As the healthcare IT industry continues to undergo transformation, it is clear that all of these efforts are directed towards achievement of one primary goal – to improve patient care, outcomes and experience.
Looking to switch to a HIPAA-certified Cloud-based system? Download this free white paper to know all about it in detail. You can also learn more about how to purchase a Cloud-based EHR through this video. If you still have questions, feel free to contact us at + 1 866 643 8367.