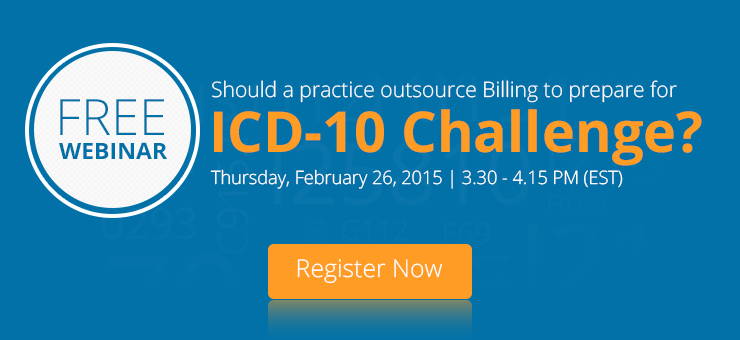 Every practice across the country will send out claims based on ICD-10 codes starting October 1, 2015, if they want to get paid for services rendered. The updates are massive, as will be the adjustments you'll need to make to meet this challenge. Are you equipped for these workflow changes? And is outsourcing your medical billing the only way forward?
The following post will identify the medical billing challenges for which  solutions will be given in our upcoming Webinar, "Should a practice outsource billing to prepare for ICD-10 challenge".
In the Webinar, our presenter, Ken Edwards will first help you identify loopholes in your current billing cycle and endorse measures to overcome them.
Identifying loopholes
Periodically benchmarking certain key performance indicators (KPIs) against industry and specialty-based averages is a tried and tested method of determining what the "better performers" are doing to earn more. Here are a few you should test:
1.       A/R exceeding 120 days
The time it takes to get paid for your claims must be provided by your billing team via monthly insurance aging reports.
A Medical Group Management Association (MGMA) benchmarks the 120-day aging bucket for different specialties. Compare the MGMA percentages for your specialty with the results at your practice to find if the A/R at your practice is collected slower or faster than the industry average.
2.       Cost of appealing denials
"Cost to appeal denial" by The Verden Group's CEO Susanne Madden found that appealing an average of 16 denials out of 200 claims/month would cost your practice $7,680/year in time and resources; with each appeal costing $40. Dig deeper into this KPI, as your practice could be losing a lot more on appealing denials.
 3.       Patient Collections
The best practices send out only two statements for collections, while other practices send 3-5. They also send lesser letters and make fewer phone calls for collections. Which category does your practice belong to?
Assessing these KPIs will help you gauge your billing team's productivity, as inefficiency lowers revenue. And while these are problems you're already dealing with, here's what ICD-10 will bring:
ICD-10 codes will be complex
With about 155,000 diagnosis and procedure codes in ICD-10 replacing approximately 14,000 ICD-9 codes, the dynamics of medical billing at every practice will change. Not only are there a lot more codes that medical billers will need to learn, they are also on a lengthier and more complex format.
Preparation and impact of the ICD-10 conversion on billing
Getting paid for claims will require a lot more effort with all these new codes, and this will add up to the existing issues that your billing team is facing.
Moreover, the conversion will require:
An implementation team
Internal awareness and training
External communication with partners (to assess readiness of EHR vendors, insurance, clearinghouses)
Internal and external testing of the new codes
The challenge of transitioning to ICD-10 for every practice will be huge, but the impact will vary based on your current billing methods, preparation for the transition, and the billing team you've employed.
Many are switching from in-house billing departments to professional third-party outsourcing, for efficiency, consistency and security. Others are dedicating resources to train their team for ICD-10. However, getting all of this done before October 1, and ensuring that your payments aren't affected in the process will be a huge challenge; but what's best for you depends on the current revenue cycle management processes deployed at your practice.
What's Next?
Join us for our upcoming webinar: "Should a practice outsource billing to prepare for ICD-10 challenge", Ken will help identify your existing billing issues, determine if your practice should consider outsourcing, and then guide you through a comprehensive billing action plan for your practice in preparation for ICD-10.
About the Presenter
A veteran medical biller with a first-hand view of interacting with our clients and addressing their billing queries, CureMD's Ken Edwards has used his experience and expertise to identify the billing issues providers currently face, and will face after ICD-10; in an effort to determine the way forward for your practice.